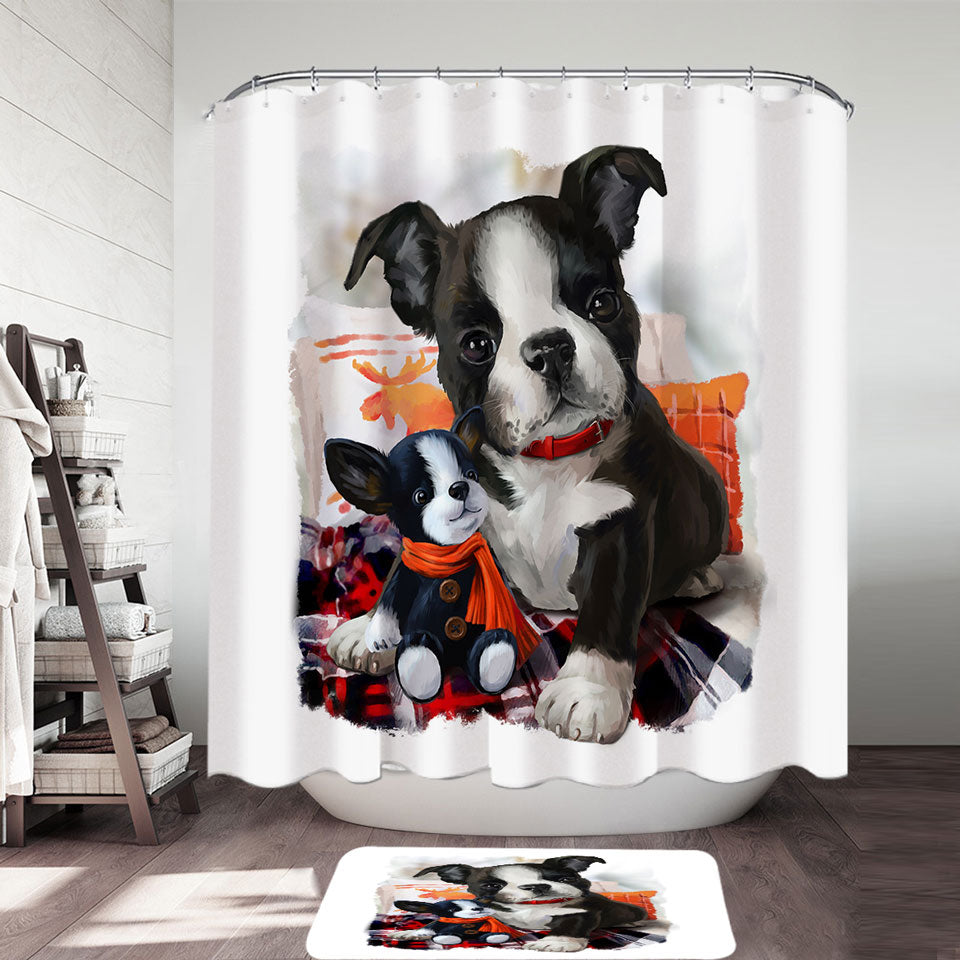 Art Painting Cozy Adorable Puppy Doll and Cute Dog Shower Curtain
---
Please Choose Below from the Nine Shower Curtain and Two Bath Mat Sizes.
All in stock!

Inventory on the way

A shower curtain is an ideal and comfortable way to restore your bathroom and refresh its appearance. Shower curtains are the leading bathroom decor, thanks to their size and practical purpose. Shower curtains enhance the design of your washroom with an individual taste and improve its uniqueness.
The shower curtain prevents water from spraying on your floor and helps keep away the mildew. But we are sure its true destiny is to enrich your bathroom look and make it extraordinary.
Features
Fabric shower curtains are made of quality polyester fabric with a unique, vivid print. Our wide range of designs will help you decorate your bathroom with minimal struggle and match a theme that fits your preferences.
Made of a sealed fabric for your own privacy.
Made of water-resistant material that prevents mold and mildew.
Quick-drying fabric. No liner is needed.
Easy to wash. Machine cold wash.
Packed with plastic C-shaped shower curtain hooks.
Buttonholes are made of Stainless metal for better grip.
The bath mat is made of soft flannel fabric.
Each shower curtains design can be printed on a bath mat. You may purchase curtain only, bath mat only, or shower curtain and bath mat set.
Shipping methods 
Shower of Curtains is glad to offer free worldwide shipping:
USA,

Western, and Northern Europe

: 10 - 15 days. Shipping By: USPS Int'l Service \ DPD.
Canada: 10- 15

Business

days. Shipping By: Canada Post.
UK: 10 - 15 days. Shipping By: Royal Mail.
Australia and New Zealand: 10- 15

Business

days. Shipping By: Australian Post \ New Zealand Post.
The rest of the World: 30-45 days. Shipping By: Local Carriers.
The shipping cost is fixed price and is not subject to product quantity.
All orders are usually processed within one or two business days.
Shower curtains and bath mats are "made to order" - Shipping time includes producing time.
*Business days: Monday to Friday (Holidays excluded).
Once your order has been shipped, you will receive a tracking number for your order.
*Notice: shipping time may increase (delay) during peak season, November, December, and January. Please accept our sincere apologies and thank you for understanding.
Return policy
We commit to customers' satisfaction and take full responsibility for our products. Therefore, we run a money-back guarantee policy. Meaning customers may return, exchange their product based on "changed of mind" reasons. The return request must be applied within 35 days after receipt.
Supposing the product(/s) has been damaged during the shipping process. Please contact us as soon as possible for a solution to your choice.
For returns, exchanges, requests, or everyday talk, please contact us in one of the following ways:
Contact form: "Shower of Curtains" contact form here
Email to

support@showerofcurtains.zohodesk.com